John Beckett, who is farther along the path to online ritual than we are, is presenting a Samhain ritual via U-Tube on Friday, October 30. His blog post, linked below, has given me a few ideas to incorporate in our Zoom ritual on the 31st. He has prepared a video; we will be co-creating the ritual in real time. He does not require checking in, responding to an invitation, or even identifying yourself; we're doing the Zoom thing and will see each other's faces ( or profile pics).
All in all, we have much the same intent. I commend his article to your attention. I'm planning to watch/join in his ritual on Friday.
Under the Ancient Oaks Online Samhain Ritual: October 30
The post, quoted:

Different sabbat, same pandemic.
I really thought we'd be able to have a public Samhain celebration. Denton CUUPS went so far as to write up a proposal for an in-person event. It would have had limited attendance, mandatory masks, social distancing, and other precautions we believed would be sufficient. There is no such thing as "safe" but we thought this would present little additional risk to people who are not completely quarantining.
But before we could send the proposal to the Board of Denton UU for approval, the "third wave" began. Even with precautions, holding a public event right now would be irresponsible.
So we'll keep doing what we've been doing – hold online rituals. Denton CUUPS' ritual will be on their Facebook page. It's in progress and should be finished early next week.
The Under the Ancient Oaks Online Samhain Ritual is ready. As with the UTAO rituals for the past three high days, it will be a YouTube Premiere.
Under the Ancient Oaks Online Samhain Ritual
Friday, October 30
8:00 PM CDT
YouTube Premiere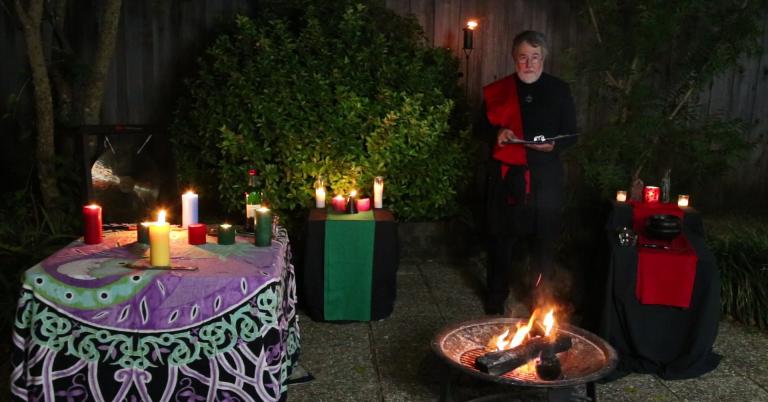 The Ritual
The ritual follows the same general liturgy as my other rituals, which is the same as I've used in public rituals for the past 15 years or so. Except I made a couple of tweaks, which happens rather frequently. There may be a blog post on the evolution of my Pagan liturgy someday…
The Deities of the Occasion are Lugh, who we honored at Lughnasadh, and the Morrigan, who we honored at Summer Solstice. We are calling on Them because we previously honored Them in UTAO rituals (and thus everyone who participated in those rituals has at least the beginnings of a relationship with Them) but also because we have a need for Their virtues and Their skills.
There will be a two-part main event. The first part will honor those who have died from Covid-19 this year. Samhain is a time when we honor our dead, and this year over a million people have died from Covid worldwide. Whether their lives were cut short by days or by decades, they all died before their time, and they deserve to be remembered.
The second part is a working for victory – in particular, victory in the upcoming U.S. elections. The Gods I follow have never told me who to vote for. But I think that's less because They don't care and more because They think government is something we have to figure out for ourselves.
The ritual mentions no candidates or political parties by name. But I've made my positions clear. The intention of the ritual is that those who oppress refugees, the poor, racial and religious minorities, women, LGBTQ persons, and anyone else be thoroughly and decisively defeated.
If your politics includes voting for people who do these things and revel in them, this isn't the ritual for you.
What you need to participate where you are
You're welcome to simply follow along. If you'd like to participate where you are, you'll need a candle and something to light it with, something for offerings and something to pour them into. I'm using whiskey this time – you offer what seems right to you.
Repeat the calls of 'hail and welcome' and such. Pour offerings as I pour them, and light your candle as I make offerings to the central fire. For the main working, add your will and your magic to mine.
When we're done with the main working, we'll share a drink among ourselves. After the ritual, be sure to dispose of your offerings in a respectful manner. Pouring them on the ground is ideal. Never pour offerings down the drain.
The ritual runs about 25 minutes.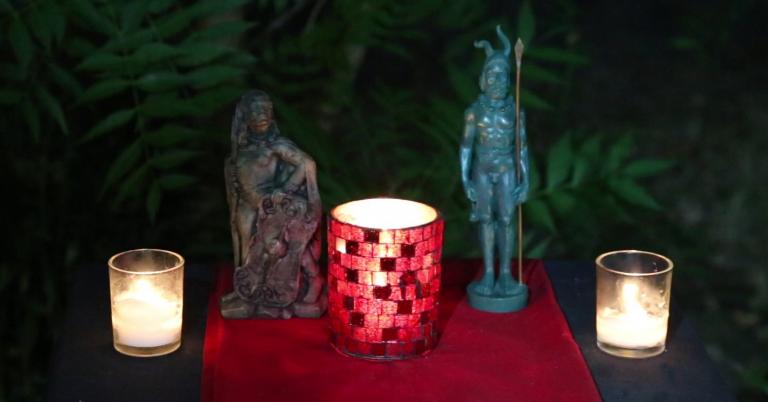 Why Friday?
As much as I prefer to celebrate Pagan holy days on the actual dates, the reality is that Covid or no Covid, Saturday October 31 is going to be a busy day. Those of you with kids will have to find an alternative for trick or treating. Many of you will celebrate Samhain with your family or close friends. More people will be available on Friday than on Saturday.
Of course, because this is a video ritual, it will remain available after it's done – if you can't make it Friday evening, it will still be there on Saturday, or whenever you're ready.
A note for non-U.S. readers: most of the world goes off daylight saving time the last Sunday in October. The U.S. doesn't change until the first Sunday in November. So the time difference between "here" and "there" is likely to be an hour off from what it usually is. Check your phone's world clock or one of the online time zone conversion sites. Or set a reminder on YouTube and let it do it for you.
The future of online rituals
I'm getting more comfortable with the video production aspects of online rituals.
On one hand, I always enjoy learning new skills. On the other hand, my goal in life is to be the best Druid and priest I can be, not to be a better videographer. I wish I didn't have this on-going opportunity to keep making ritual videos, but we learn the skills we need to do the work in front of us.
I will continue to facilitate online rituals until we can start meeting in person again, or at least until I can do it. It's too early to make a commitment for Winter Solstice, but given what I'm reading about the "third wave" I think it's likely I'll be doing another one.
May your beloved dead be honored and remembered, and may your Samhain be deep and meaningful, however you choose to celebrate.
---
Want to get my personal weekly newsletter every Friday? It covers things that don't fit into the blog format, mostly in my usual range: Paganism, polytheism, and magic. Current events and politics. What I'm working on that you'll see in the near to medium future – be the first to find out about things like this.
Sign up on my teaching site https://undertheancientoaks.com/
Enter your e-mail in the big green block and do the not-a-robot thing. You'll get a confirmation e-mail – respond to it and you're set. You have to respond to the confirmation e-mail – my mailing service wants to make sure you really want the newsletters and someone isn't signing you up for something you don't want.